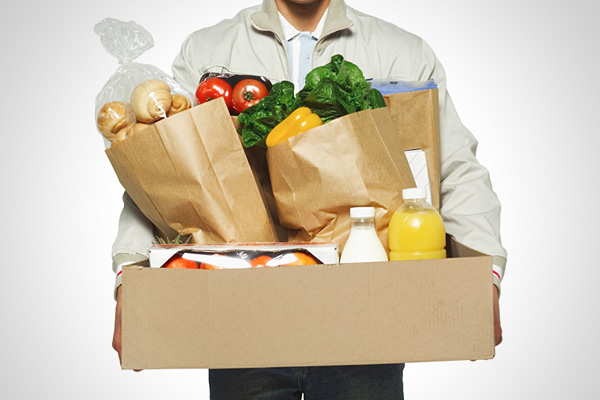 I have discovered an amazing way to save time and money. I have this new magic trick that I cannot believe! Grocery Delivery.
People in big cities like NYC just ignore this post, you probably have had grocery delivery forever as it is pretty much a necessity there.
Everyone else, continue reading…
A few years ago, I saw amazon.com groceries and I wanted to order, but everything came in bulk and I still couldn't get bananas, avocados, and things like that. I could only get non-perishables. I was heart broken. With two toddlers running amuck grocery delivery seemed like a dream come true.
Now that dream is a reality and I absolutely love it! One chaotic evening years ago my husband said; someone just needs to come up with a pizza, movie, and diapers delivery service :) This is pretty close…
Here are the Pros:
Save a butt load of time. No driving to the grocery store, no 45 minutes loading up your cart, no loading up the checkout, no loading up your car. That's a lot of time. And no driving straight home lest your ice cream melts and your popsicles become juice.
Kid free shopping. Baby is not screaming her head off while you try to get through the store coaxing her with crackers off the shelf and toys you now have to purchase.
No impulse buys. Period. Shop online, pick what you need based on your pantry and menu plan and possible sales.
It's good for the environment. 10 cars driving to the grocery store and back is probably worse pollution than one truck driving to 10 homes and back. It's like the school bus. Makes sense
Order ice cream, avocados, milk, eggs, you name it!
Use it as your grocery list. You can also re-order based on past orders making shopping even faster.
I tend to spend less money shopping online when I can see a running total. I hate supermarket checkout surprises.
The prices online are the same as in the store the store specials and sales work in the online order.
The Cons:
Not for couponers (is that a word?) They can't accept coupons in online orders yet. Not sure if they plan to add that. But they do club specials and Just4U :)
You have to be home. Duh. Well just remember your scheduled delivery window and be there (perfect for your house cleaning day or if you happen to work from home -not a con). They can call you and they can leave it, but it is not preferred. There are 1, 2, 3, and 4 hour windows to choose from.
Substitutions (unless you request no substitutions).
Sometimes something is substituted if they are currently out of stock. Even though you can order it online your order is done about a day before so they may have run out of that size or type of its, For example, I ordered Santitas Tortilla chips 16 ounce, they had to substitute with 8 ounce as the 16 had run out. The price reflects the new item of course, but this might not be what you want. For me it's no problem, as long as I have my chips and salsa!
You must order the day before. Again not a problem for me, I tend to add to my grocery list a few days before anyway. Now this is my new grocery list. I add things to it as I think of them and while menu planning up until the day before I would normally do my grocery shopping. But if you decide to shop in the afternoon for tonight's dinner you're not getting delivery.
After your first order there is a delivery charge. You can try to avoid that by purchasing the free delivery item and spending $150. But the fee is only around $6-$12. Worth it. Your saved time not shopping at the store is worth $12 isn't it?
I used Vons. In my first order I wanted to test if I could get ice cream (un-melted) and how the avocados would look, bananas? Also eggs (un-cracked) Everything came perfectly. The bananas were yellow green – perfect. All eggs un-cracked. Avocados just ripe. Our Ice Cream was perfect – like right out of the freezer, that's because their delivery trucks have zones to keep foods at the right temps. My mini-van doesn't happen to have that, go figure. The order came on time and without any hiccoughs. The delivery man asked where I would like it and was off in a flash. All I had to do was order!