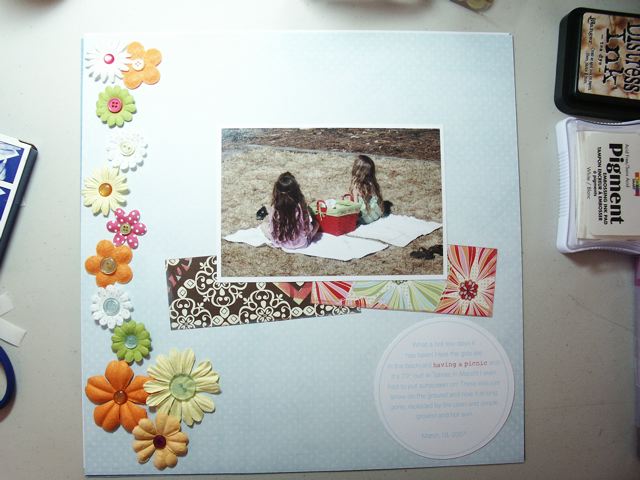 i must admit i am addicted to photography and paper and pretty things so this isn't a giant leap for me. scrapbooking is enjoyable for me because it is a culmination of my passions along with preserving family photos which becomes a lasting legacy. i do enjoy other things that are not at all related to scrapbooking, such as acting, eating healthy, reading, movies, yoga, the internet, and the beach (paper and photos do not get along well with the beach). so what i am saying is, i am not one track minded, we can have lots of interests and scrapbooking (in some form) should be one of those interests.
why?
because i said so.
no, just kidding. because there are so many benefits.
did you know one of the healthiest things people trying to come out of depression can do? look at family photos. yep, that's right! look at family photos, reminisce, smile, laugh, remember.
scrapbooking actually relieves stress. and having a hobby is therapeutic. do it with a friend and it's even better!
your photos will disintegrate without proper storage; film, print, or digital files.
family history. my nana has stacks of very old photos (that are disintegrating by the way) of people that i have no idea who they are. they are family members – so there's photos my great great aunt and great great grandfather, but i don't know who is who! some day i have to visit nana (soon) and label everyone in the very old photos. and one day i am going to be a grandmother and a great grandmother and i will have albums my grandchildren can look through and they will know who everyone is… because i scrapbooked it.
why not?
keeps everything organized.
it's a creative outlet. i never thought i was creative until i scrapbooked. i thought you had to be a full-fledged artist to be creative. nope. get creative, have fun. creativity is not something you're born with – it's a journey filled with things you produce along the way.
don't be intimidated, just dive in. find some photos you like and put them on some paper or make a photo book. digital, traditional – whatever, call it what you want to – i just hope you find a way to do it!
sometimes i scrapbook 3 days in a row, sometimes i don't scrapbook for a year! life is busy, busy, busy. we make time for the things we want. i make time when i can and its not that hard. i enjoy scrapbooking, but more than that i enjoy watching the kids pour over our scrapbooks.
what's keeping you from scrapbooking?
xoxo,
krystina